You may fear them, you may hate them, but we really can't live without them. So we need to try harder to give insects a break. Maybe the warnings about an insect apocalypse were overblown, but still, there's a problem. All you have to do is observe, especially if you're old enough to remember.
Here's how it used to be decades ago. Every night in areas I lived in, whether in the Midwest, the Northeast or the Mid-Atlantic, fireflies and ladybugs were everywhere. So were butterflies, in so many species that as a kid I bought a little book for identifying them. Now I'm lucky if I see a handful in the summer – a couple of monarchs, maybe some swallowtails and a fritillary. And of course, there's also concern about bees, especially honeybees that pollinate so many of our favorite fruit and nut trees.
Any time you drove anywhere, your windshield would be bombarded with insects that you had to keep turning on the wipers. I knew a girl in college who was so concerned about her complicity in so many deaths that it precipitated a nervous breakdown. She'd quit driving altogether for months before that, but no one saw that as a warning sign. I wonder how she'd react to today's situation.
Now it's a big deal to see an unusual insect. My husband was startled one night by a rhinoceros beetle that hissed at him. And for the first time since my childhood, last week I saw a walking stick, a species that demands our admiration since the females can lay fertilized eggs without the use of a male.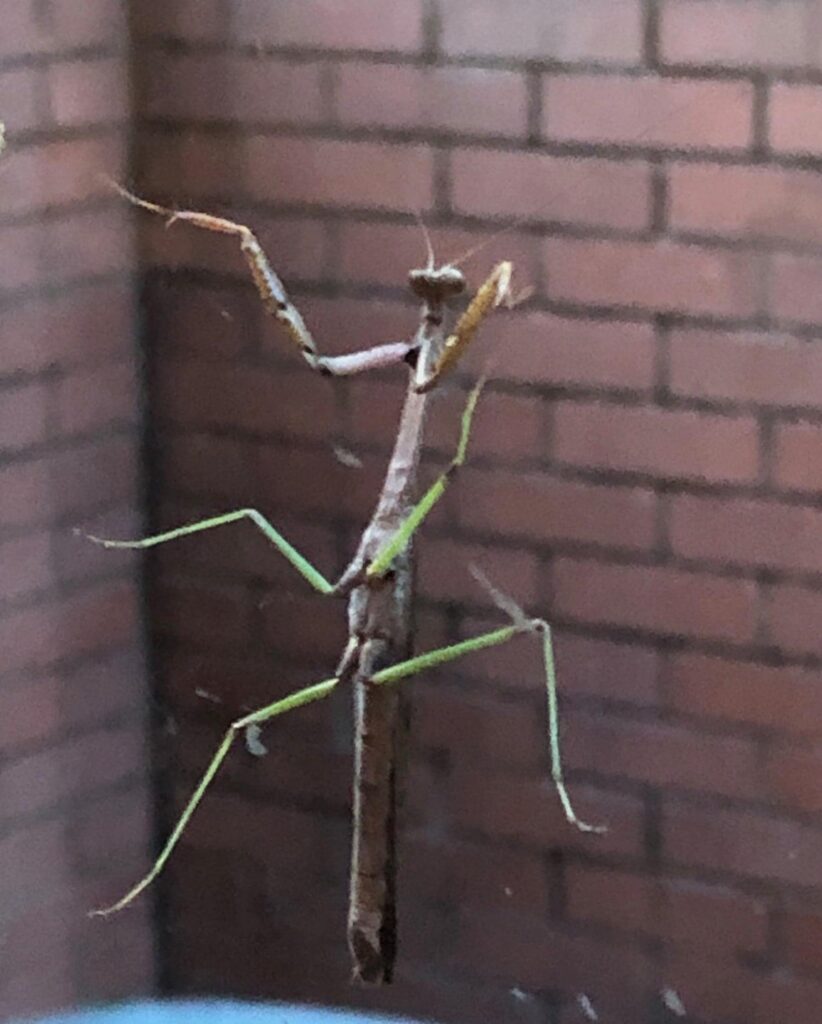 This summer I saw a butterfly — I think it was a fritillary — floating in the pool, and scooped it out gently and laid it motionless on the deck near the ladder. After swimming past it five times during my laps, I saw that it had picked itself up, and was standing up with its wings pressed together and vertical. During my twentieth lap, it flew off.
Unfortunately, there are still too many mosquitoes, but I'd be concerned about killing them off, or altering them genetically as Bill Gates is keen on doing.
As go the insects, so go the birds. Etymologist Doug Tallamy warns that bird species that depend on insects lost nearly three billion individuals. Another study says the bird population is down forty-five percent. It's estimated that all monarchs will be gone in fifty years, so it's heartening to see individuals and municipalities planting milkweed for the monarchs whose population has declined by eighty percent in the past couple decades. Still, scientists warn that water and land ecosystems will collapse with the demise of the insects.

It's all in our control — reasons for insect decline include loss of habitats due to development, chronic exposure to insecticides and climate change which is related to human use of carbon products. We can do simple things like growing plants — even in flower pots by the front door – that attract pollinators, using alternatives –like white vinegar– to killing weeds, replacing lawns with pollinator gardens. Finally, forego fall yard clean-up because native bees (3500 species of them) need a safe place to overwinter, butterfly chrysalises may be in the leaf litter, as ladybugs and other predatory insects that control garden pests.
Have you read SYLVIE DENIED yet? I invite you to grab your copy, and please leave an honest review when you do.